Realistic Lifesaving Lessons
Lifesaving is for everyone and more fun than swimming up and down

. It is a valuable community skill that could save lives.

However, too many lifesaving clubs focus on competitions or passing exams rather than training for real life survival. The pool water is warm and clear, no wind, no waves, no sunburn, everyone just in swimwear. Life is easy!
The Real World is Different
The weather can be hot or cold or windy. You will come across currents, waves, murky water, and obstacles. Casualties may not behave they way they did in the text book or in pool training.
In case of emergency, you will have no time to change into your swimming costume. You may have to go into the water fully clothed to escape from danger or to help a casualty. Are you prepared for that? Did you bring your flippers and floats?
Most lifesaving classes don't prepare you for a real situation. They are run like swimming clubs, using flippers and swimsuits rather than realistic kit. We intend to change this by bringing you training materials that help you run a realistic lifesaving and survival swimming class.
Integrate Lifesaving into Aquatic Sports
Teaching lifesaving as a separate skill is outdated. It needs to become an integrated part of all aquatic sports. Frequent training makes your rescue skills nearly automatic so that any emergency response becomes almost routine.
Today most people are looking for fun, or extreme sports, where they can explore their limits. Lifesaving and survival swimming can offer this in a safe environment. Lifeguard techniques are so easy to master that even teenagers can handle them.
Lifeguard Qualifications
Lifeguard qualifications are awarded by the national organisations in your country, not by the Free Lifesaving Society. This is necessary for you to get a lifeguard job in your area. We encourage you to work closely with local teams and national organisations in your country. Lifesaving is a team effort. Together we can make a difference.

Work as a Lifeguard
Lifeguards are responsible for overseeing the safety of people in a swimming pool, a water park, or on a beach. This differentiates them from lifesavers who participate in lifesaving activities as a volunteer, as a sport or practical life skill.
Lifeguards are employed to professionally perform lifesaving activities and supervision.
In some areas, lifeguards may form part of the emergency services response to incidents. In some communities, the lifeguard service also carries out mountain rescues, or may function as the primary emergency services provider.
Lifeguards are qualified strong swimmers, trained and certified in water rescue, using a variety of aids and equipment depending on requirements of their particular venue, and first aid.
Lifeguard teams regularly practice first aid for distressed swimmers, improve their swimming skills, enjoy team-building exercises, and play water games.

From Lifesaver to Lifeguard
Many people who become proficient lifesavers go on to become full time lifeguards at swimming pools and the beach. They work under contract.
Depending where you work, lifeguarding can be great fun. You meet a lot of people and watch them have a good time. You can also help and teach them about sun protection and water safety.
Since this is a qualification for employment, many health and safety rules apply that require professional training beyond what we could offer on this web site. Ask your national lifesaving organisation for training details.

Teaching the Teachers
Until we have members in each region we aim to teach the teachers via the web or our team members, where available. The resources on this website are free to use by everyone for their survival swimming and lifesaving classes.
When required we coach individual teachers or groups, assisting with their specific requirements and advising on relevant matters.
We hope we can help you run water safety and lifesaving classes in your area with the material we provide free of charge. Feel free to contact us with any requests you may have.

Buddy System
Always teach in a lifeguarded area. While teachers focus on their lesson, so someone else should keep a look out.
Two teachers are better than one. One teacher explains a certain skill to the class while the other goes into the water and demonstrates it. Students learn a lot more if you tell and show them so they can try it first and then do it too.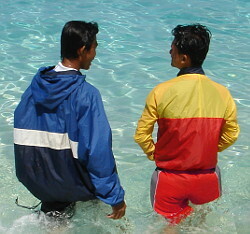 Student and teacher enter the water for training.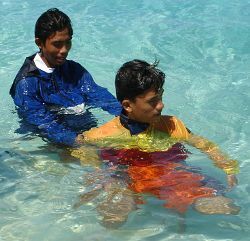 Student practices a skill that was shown earlier.